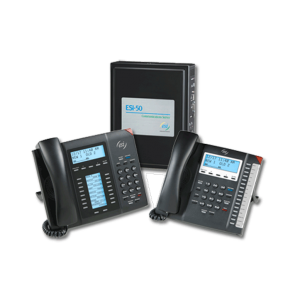 The ESI-50 Communications Server is a powerful tool around which you can build your organization's entire telecommunications strategy — and you don't have to know it all in advance.
That's because the ESI-50 can be a traditional digital business phone system, a fully standards-based IP telephony system, or any mix of the two. The choice is entirely yours, and the mix can easily change when your needs do.
The ESI-50 Communications Server combines multiple first-rate, feature-rich systems into one tightly integrated unit:
Business phone system
Voice mail
Automated attendant with six levels and 100 branches
Messages-on-hold
Enhanced Caller ID2
Automatic call distribution (ACD)
Intelligent Call Forwarding™3
Optional Windows®-based VIP family of communication management tools
Optional ESI Presence Management
Optional ESI Media Management
Optional ESI Bluetooth® Voice Integration
Network-based VoIP telephony1
Properly configured by your Certified ESI Reseller, the ESI-50 can handle your heaviest communications needs. In addition to the features mentioned above, the ESI-50 includes:
Digital stations, IP stations1 (including SIP), or any combination thereof
T1/PRI support 4
Massive voice message storage
Sophisticated voice mail features
Despite its long list of features, the ESI-50 Communications Server — thanks to famous ESI ease-of-use — is a phone system you'll find friendly. It says, "Good morning." It teaches you how to use and program it. It reminds you to change your personal greeting after a trip. And it stands by, ready to assist you whenever you need help. There are several different models of ESI desktop phones. Each is a compact, attractive addition to any desk, designed to simplify your telecommunications. Here are just two examples:
The display is large and easy to read; that's even more true for the backlit display you'll find on most models.
The dedicated function keys (so you don't have to memorize codes) give you more ease of use, even with the ESI-50's enhanced capabilities.